We work exclusively with young refugees and asylums seekers. Here are some of their stories.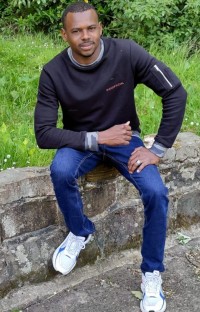 My Name is Altom, I left my country in 2016, because war was going on in my area, my parents got arrested (by the government for being suspected to be against them, though this was not the case).
They actually came to arrest me but fortunately, I got help from my neighbour to run away. I knew my safest place was to be outside the country, so I decided to go to Libya, I was 15 years old.
It took me 5-10 days to cross the desert from Sudan which is my country to Libya. I thought Libya could be a safe place for me to be, but unfortunately, I fall into the hands of human traffickers. I was then literally sold to another group of human traffickers who asked me to pay 4 thousand Libyan dinar (over £10,000) for my freedom, which I did not have.
I was tortured and locked in a room for more than 25 days till I got help from someone to get out. Since then, I knew this was not a safe place to be living so after spending a very tough year over there, I had to find a good and safe place to live.
I decided to take a suicide mission which was crossing the sea by boat, I knew a lot of people died crossing in the same way, but I did not really care about my life anymore. Because when you get tortured and oppressed you wouldn't care about anything anymore.
Fortunately, I manage to cross the Mediterranean Sea in 6 days after being rescued by an Italian boat. I ended up being in Italy, France, and Belgium for months and decided to come to the UK because I did not know what to do and got told by someone, I had met on my journey it was a good place. So, I decided to come here, and I am glad I did. The whole journey took me nearly 2 years to get to the UK and it was a really hard one.
After I came to the UK, I spend nearly 5 month and then I was introduced to Manchester Settlement, which was a great choice. In Manchester Settlement they sheltered me and helped me with literally everything, my health, well-being, and my education.
I am very grateful that I came to live in one of their houses. I was never worried about anything because they were there to help me with everything at any time even on the weekends.
I owe many thanks to the Manchester Settlement team(Richard, Kerry, especially Tavina, and everyone who works there), for helping me with my career and everything else. I would certainly recommend the Manchester Settlement to anyone who is looking forward to living in a safe place and achieving their dreams.
Because of their help, I went to college and learned the language and I took an additional coding course outside the of the college now I am a Software Engineer working for the Dematic/DAI. My life has completely changed and that is all because of the help I got from places like the Manchester Settlement. I am very much looking forward to being a senior Software engineer in the coming years.
Thank you very much for taking your time to read my story, I very much appreciate it.