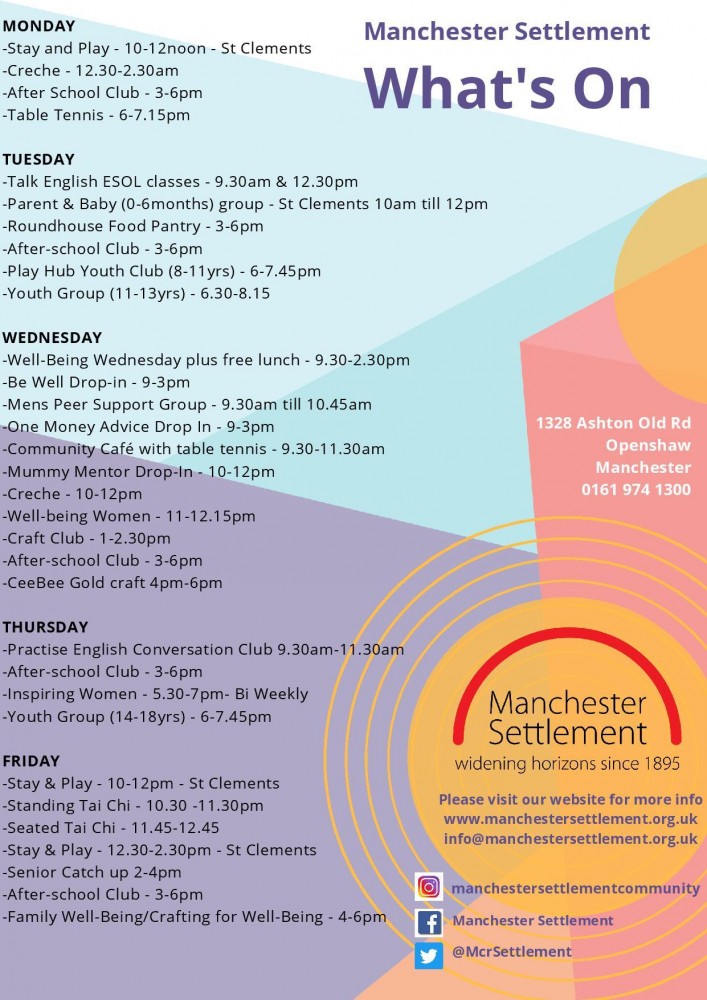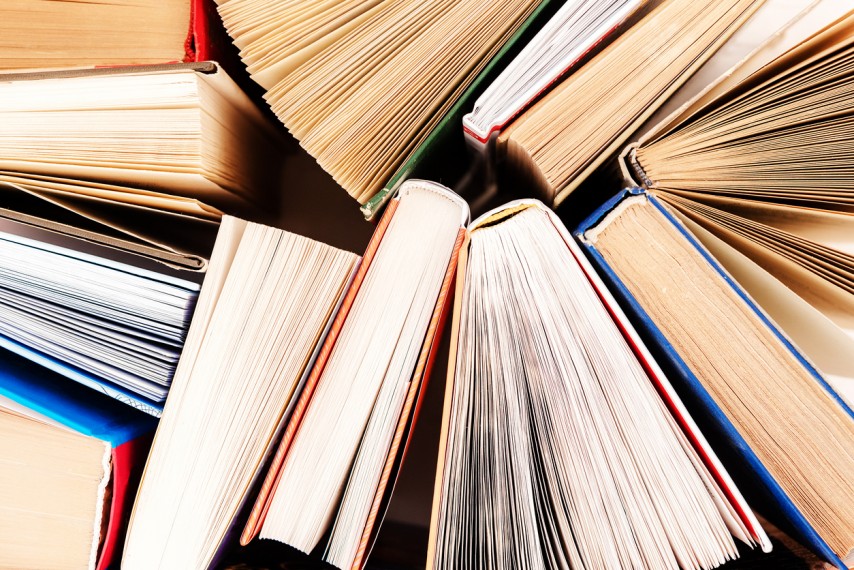 We are hoping to open a small library for our young people.
To encourage them to read, help with learning English and to inspire others to do the same. We are looking for books for reading ages 10 to 15.
If you have any unwanted books please drop them into our lovely reception team

Thank you very much!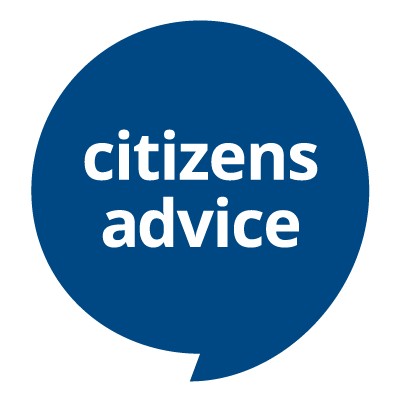 First sessions begin Tuesday 23rd November.
We are delighted to announce that Citizens Advice Manchester will be offering video advice sessions with trained advisors, here at the Settlement starting from next week.
During a 20 minute video advice session, they can help you move forward and prioritise your concerns regarding:
✅Getting online
✅Using internet services
✅Welfare benefits
✅Debt & money
✅Housing
✅Rights at work
✅Energy & utilities
✅and more!
The sessions will be Tuesdays from 2.30 - 4.30pm & are by appointment only. To book your place e mail info@manchestersettlement.org.uk or call 0161 974 1300
Click an activity in the calendar below and complete the enquiry form, or please call 0161 974 1300.
What's on
5th Jan
Community Cafe (Free) and Wellbeing Wednesdays

Community Cafe (Free) and Wellbeing Wednesdays
09:00
Why not come along for natter and a nice free Tea or Coffee... We even have biscuits ...make new friends and catch up with old ones after the long lockdown.. Everyone is welcome ... .. come and socialise with your local community, Strangers are just friends we haven't met yet...:) Wednesday meet ups at the Community Cafe will also help you to find out about what else we offer, we have lots going on including, well being women 11 till 12:30 Digital Skills IT Drop in 1 - 3 pm Craft club (Sewing etc 1:30 till 3:30 Calligraphy for Kids 6 till 7:45 And now ... One Manchester Money Advice from 9:00 till 3:00 - help with financial issues drop in and appointments All with Free Lunch at 12:30
Close

11-16yrs Free Board Game Night

11-16yrs Free Board Game Night
18:00
11-16yrs board game night, absolutely free and food is provided. To register please follow the link: https://forms.office.com/r/ZUsRfD6VmZ
Close
10th Jan
One Money Advice - Drop In

One Money Advice - Drop In
09:00
Morning drop in for one manchester tenants, and other community members needing money advice and help. Help with debt management, form filling and other money related issues. Morning drop in sessions available,
Afternoons appointments available please Contact Elaine.Wilkinson@onemanchester.co.uk
Free lunch provided at 12:30
Close

Free Table Tennis Club 6-7.30 on Monday evenings

Free Table Tennis Club 6-7.30 on Monday evenings
18:00
'Join the fun at our open access Table Tennis Club on Monday evenings. Tea and coffee available. All welcome!' https://forms.office.com/Pages/ResponsePage.aspx?id=xqthaOOOz0S4v_FqRk93xyM8NHtC4gVNuz_4DNZkSKBUQ0ZKRTZBOFBGNVA0WkMyQlZTN1U2WTcyQyQlQCN0PWcu
Close
11th Jan
New baby Group 0-6 months

8-11yrs Youth Club

8-11yrs Youth Club
18:00
A youth group for 8-11yrs to play, create and make new friends! To register, follow the link: https://forms.office.com/r/TcBkLtMTzV
Close

11-13yrs youth group

11-13yrs youth group
18:30
A youth group for 11-13yrs to hang out and try new activities. To register, follow the link:https://forms.office.com/r/yxEc9KD0xz
Close
12th Jan
Community Cafe (Free) and Wellbeing Wednesdays

Community Cafe (Free) and Wellbeing Wednesdays
09:00
Why not come along for natter and a nice free Tea or Coffee... We even have biscuits ...make new friends and catch up with old ones after the long lockdown.. Everyone is welcome ... .. come and socialise with your local community, Strangers are just friends we haven't met yet...:) Wednesday meet ups at the Community Cafe will also help you to find out about what else we offer, we have lots going on including, well being women 11 till 12:30 Digital Skills IT Drop in 1 - 3 pm Craft club (Sewing etc 1:30 till 3:30 Calligraphy for Kids 6 till 7:45 And now ... One Manchester Money Advice from 9:00 till 3:00 - help with financial issues drop in and appointments All with Free Lunch at 12:30
Close
13th Jan
14-18yrs Youth Group

14-18yrs Youth Group
18:00
A weekly youth group for 14-18yrs. To register follow the link: https://forms.office.com/r/MKifGRUTdi
Close
17th Jan
One Money Advice - Drop In

One Money Advice - Drop In
09:00
Morning drop in for one manchester tenants, and other community members needing money advice and help. Help with debt management, form filling and other money related issues. Morning drop in sessions available,
Afternoons appointments available please Contact Elaine.Wilkinson@onemanchester.co.uk
Free lunch provided at 12:30
Close

Free Table Tennis Club 6-7.30 on Monday evenings

Free Table Tennis Club 6-7.30 on Monday evenings
18:00
'Join the fun at our open access Table Tennis Club on Monday evenings. Tea and coffee available. All welcome!' https://forms.office.com/Pages/ResponsePage.aspx?id=xqthaOOOz0S4v_FqRk93xyM8NHtC4gVNuz_4DNZkSKBUQ0ZKRTZBOFBGNVA0WkMyQlZTN1U2WTcyQyQlQCN0PWcu
Close
18th Jan
8-11yrs Youth Club

8-11yrs Youth Club
18:00
A youth group for 8-11yrs to play, create and make new friends! To register, follow the link: https://forms.office.com/r/TcBkLtMTzV
Close

11-13yrs youth group

11-13yrs youth group
18:30
A youth group for 11-13yrs to hang out and try new activities. To register, follow the link:https://forms.office.com/r/yxEc9KD0xz
Close
19th Jan
Community Cafe (Free) and Wellbeing Wednesdays

Community Cafe (Free) and Wellbeing Wednesdays
09:00
Why not come along for natter and a nice free Tea or Coffee... We even have biscuits ...make new friends and catch up with old ones after the long lockdown.. Everyone is welcome ... .. come and socialise with your local community, Strangers are just friends we haven't met yet...:) Wednesday meet ups at the Community Cafe will also help you to find out about what else we offer, we have lots going on including, well being women 11 till 12:30 Digital Skills IT Drop in 1 - 3 pm Craft club (Sewing etc 1:30 till 3:30 Calligraphy for Kids 6 till 7:45 And now ... One Manchester Money Advice from 9:00 till 3:00 - help with financial issues drop in and appointments All with Free Lunch at 12:30
Close
20th Jan
14-18yrs Youth Group

14-18yrs Youth Group
18:00
A weekly youth group for 14-18yrs. To register follow the link: https://forms.office.com/r/MKifGRUTdi
Close
24th Jan
One Money Advice - Drop In

One Money Advice - Drop In
09:00
Morning drop in for one manchester tenants, and other community members needing money advice and help. Help with debt management, form filling and other money related issues. Morning drop in sessions available,
Afternoons appointments available please Contact Elaine.Wilkinson@onemanchester.co.uk
Free lunch provided at 12:30
Close

Free Table Tennis Club 6-7.30 on Monday evenings

Free Table Tennis Club 6-7.30 on Monday evenings
18:00
'Join the fun at our open access Table Tennis Club on Monday evenings. Tea and coffee available. All welcome!' https://forms.office.com/Pages/ResponsePage.aspx?id=xqthaOOOz0S4v_FqRk93xyM8NHtC4gVNuz_4DNZkSKBUQ0ZKRTZBOFBGNVA0WkMyQlZTN1U2WTcyQyQlQCN0PWcu
Close
25th Jan
8-11yrs Youth Club

8-11yrs Youth Club
18:00
A youth group for 8-11yrs to play, create and make new friends! To register, follow the link: https://forms.office.com/r/TcBkLtMTzV
Close

11-13yrs youth group

11-13yrs youth group
18:30
A youth group for 11-13yrs to hang out and try new activities. To register, follow the link:https://forms.office.com/r/yxEc9KD0xz
Close
26th Jan
Community Cafe (Free) and Wellbeing Wednesdays

Community Cafe (Free) and Wellbeing Wednesdays
09:00
Why not come along for natter and a nice free Tea or Coffee... We even have biscuits ...make new friends and catch up with old ones after the long lockdown.. Everyone is welcome ... .. come and socialise with your local community, Strangers are just friends we haven't met yet...:) Wednesday meet ups at the Community Cafe will also help you to find out about what else we offer, we have lots going on including, well being women 11 till 12:30 Digital Skills IT Drop in 1 - 3 pm Craft club (Sewing etc 1:30 till 3:30 Calligraphy for Kids 6 till 7:45 And now ... One Manchester Money Advice from 9:00 till 3:00 - help with financial issues drop in and appointments All with Free Lunch at 12:30
Close
27th Jan
14-18yrs Youth Group

14-18yrs Youth Group
18:00
A weekly youth group for 14-18yrs. To register follow the link: https://forms.office.com/r/MKifGRUTdi
Close
31st Jan
One Money Advice - Drop In

One Money Advice - Drop In
09:00
Morning drop in for one manchester tenants, and other community members needing money advice and help. Help with debt management, form filling and other money related issues. Morning drop in sessions available,
Afternoons appointments available please Contact Elaine.Wilkinson@onemanchester.co.uk
Free lunch provided at 12:30
Close

Free Table Tennis Club 6-7.30 on Monday evenings

Free Table Tennis Club 6-7.30 on Monday evenings
18:00
'Join the fun at our open access Table Tennis Club on Monday evenings. Tea and coffee available. All welcome!' https://forms.office.com/Pages/ResponsePage.aspx?id=xqthaOOOz0S4v_FqRk93xyM8NHtC4gVNuz_4DNZkSKBUQ0ZKRTZBOFBGNVA0WkMyQlZTN1U2WTcyQyQlQCN0PWcu
Close
1st Feb
8-11yrs Youth Club

8-11yrs Youth Club
18:00
A youth group for 8-11yrs to play, create and make new friends! To register, follow the link: https://forms.office.com/r/TcBkLtMTzV
Close

11-13yrs youth group

11-13yrs youth group
18:30
A youth group for 11-13yrs to hang out and try new activities. To register, follow the link:https://forms.office.com/r/yxEc9KD0xz
Close
3rd Feb
14-18yrs Youth Group

14-18yrs Youth Group
18:00
A weekly youth group for 14-18yrs. To register follow the link: https://forms.office.com/r/MKifGRUTdi
Close
We would love you to have your say and any input to what goes on at the New Roundhouse
Share your ideas